Detroit CYDI
May 15
Chaely Sleeps Forever: Regarding the "give your A&F clothes to the homeless" video going around... -
I'm alarmed by the fact that this is a sudden revelation, when this has been A&F's business model for at least as long as I've been aware of them (so, like 15 years) & the reason I've never shopped in their stores, or really any where you pay a premium to wear someone else's logo on basic apparel….
That couldn't have been typed more perfectly. Kudos.
urbankoi:

Making Wanton


So yummy
First I park my car. Then I fuck your bitch.
(via mycreativeaura)
May 12
A face mask for a dog means you have too much money. A Groupon for a face mask for a dog means you're a broke ass idiot.
Oh right, I forgot to show this.
This man is amazing.
[video]
May 11
Fuckin brilliant is what this is.

Geniale!
The Internet has once again proven its worth.
(Source: prufrank)
Yoga flame
A vision of things to come.
May 10
[video]
wow.
Beautifully worded.
(Source: elonjames, via adyingmetaphor)
May 08
Her: You're asinine.
Me: Your ass a 10.
Her: Shut up! :-D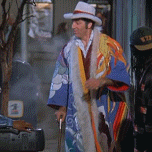 pimpin' since been pimpin'